Roasting a yard bird, better known as a chicken, is something that most anyone can do.  I first came up with this recipe a year or so ago and lots of through trial and error I've gotten to what you see today.  The error being stuck with a chicken that really doens't taste good at all, but making myself eat it because I don't want it to go to waste.  I hope that I have taken the error away from your kitchen with what you have before you now, and I hope that you are able to try this recipe and that you enjoy it as much as I do.
I use a lot of herb butters in my cooking.  They are easy way to get flavor and fat into dishes that may be lacking in either.  I always use salted butter when I am making her butters.  I can' give you a specific reasoning for this; it's just what I'm comfortable with I guess.  And don't worry you don't actually have to make butter.

I have roasted more chickens than I can count. It's a little bit more effort than just baking chicken thighs or leg quarters; which you can find in previous recipes on my blog, but it's worth the effort! There's just something so beautiful about seeing a whole bird come out the oven with crispy golden brown skin.  Part of the beauty is trussing the bird before you put it in the oven.  Trussing (or tying) your chicken not only gives you a beatiful presentation bird, but it also helps the chicken cook more evenly.  There's a video on YouTube that I've used to learn how to do it; you can find it here.
I always stuff my chickens with a bit of onion and lemon.  They moisture of both steam and help to keep the inside of the bird moist.  Just the same I stuff rosemary, thyme, and sage into the cavity of the chicken.  Not only does it make the chicken look great, but it helps to season the chicken from the inside out.
I don't think that you can really over season chicken.  I am sure that you can, but when you are working with such a bland canvas you need to amp up the flavors you are adding to the chicken.  When lathering the herb butter onto the chicken I use a very generous amount.  There's probably a 1/4 inch of the herb butter spread across the bird when it's all said and done.
Whatever lemon and onion I have left after stuffing the chicken I will put in the dish around the chicken.  The lemon and onion add some nice flavors to the basting liquid, and if you're like my fiancée you'll enjoy eating the onions out of the pan after the pan comes out the oven.
I roast my chickens at a 415F. I've found through experimentation that this is the best temperature to fully cook the chicken internally and get that beautiful  crispy mahogany brown skin we all know and love.  Cooking times will vary a bit based on your oven, but 1 hr 15mins in my oven does the job just right.
Making sure that your chicken is cooked all the way through is not something that I would play around with.  I use an instant read thermometer to make sure the bird is 155-160 in the thickest part of the thigh when it comes out of the oven.  This will allow it to fully get to temperature after is rests… Yes! You need you let the chicken rest 10 minutes before you cut into it.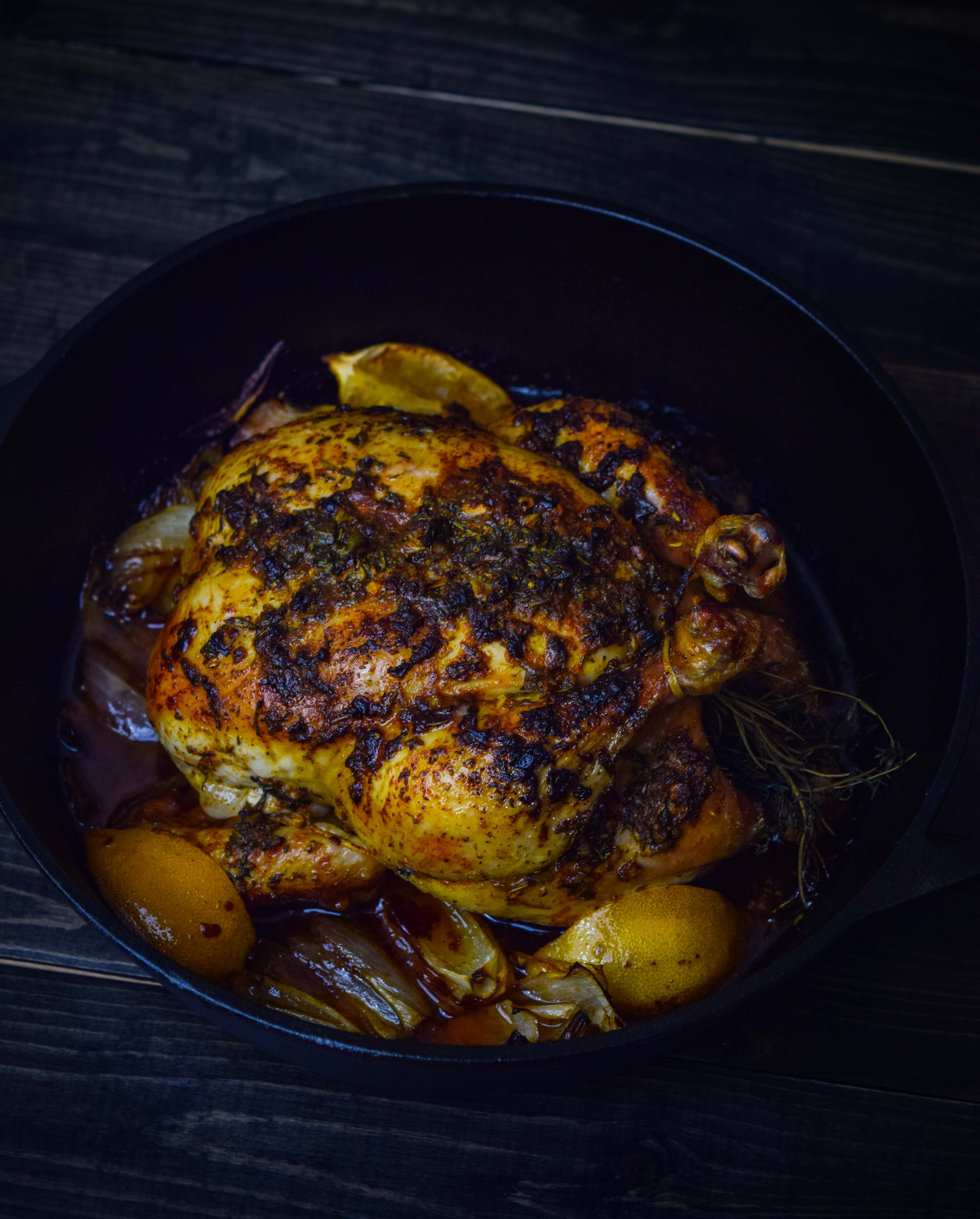 Roasted Yard Bird
Yield 4 servings
Ingredients
3-4 lb. fryer chicken
Herb butter (recipe below)
2-3 springs rosemary
5-6 sprigs thyme
1 lemon, quartered
1 onion, quartered
Salt & pepper
Herb Butter
4 sticks salted butter
8-10 sprigs thyme, leaves removed
3-4 sprigs rosemary, leaves removed and minced
1/4 cup fresh parsley, minced
1/2 tbsp poultry seasoning
1 clove shallot, minced
1tbsp, smoked paprika
1 tbsp cayenne pepper
1/2 tbsp season salt
Instructions
Preheat oven to 415F
Sit butter out in a bowl and allow to soften for 20-25 minutes.
Remove thyme and rosemary leaves from stems from stems.  Mince parsley and shallot.  If you don't want to buy fresh herbs you can use 2 tbsp dried thyme, dried rosemary, and dried parsley  as a replacement.
Once butter is soft enough to where you can mix it with a small spatula slowly mix in all of the ingredients.
Heavily salt and pepper the cavity of the chicken.
Truss (or tie) the bird.  If you don't know how to truss a chicken don't fret!  There's a very good video here that will show you how.
Fill the cavity of the chicken with the lemon and onion quarters and the thyme and rosemary.  You'll probably only need to use one of each of the of the lemon and onion quarters; you don't want to overstuff the bird.  I throw the rest of the onion and lemon around the chicken to help create a good basting liquid.
Using about half of herb butter generously lather the chicken.  You really can't have too much seasoning when it comes to chicken.
Using amen over proof dish place the bird into the oven and cook for 1 hr and 15 minutes.  Basting the chicken every 20 minutes.
Courses Main
As always thank you for taking a few moments from your day to read over this and I hope that you are able to try this recipe sometime and that you enjoy it.  Feedback is always welcome and appreciated.
Have a blessed day,
Benjamin
0