There are certain dishes that just scream Southern and Creole.  One of those dishes, as well as one of my favorite dishes, is shrimp and grits.  It just warms the body and the soul.  Feeling cold or down?  Make a quick run to the grocery store pick up the ingredients (listed a little further down) and whip yourself up some shrimp & grits.
There are many variations of shrimp and grits.  I can't remember where I got the original recipe, but I have changed it to make to my liking.  This is a fairly simple one that anyone can master.
You can always buy the pre chopped seasoning blend which includes onions, belle peppers, and parsley.  But why do that when you can chop up some nice fresh veggies?
I use a combination of seasoning blends.  The easiest combination for you to make that will work on most dishes that calls for Cajun seasoning is an even combination of Tony Chachere's Salt Free and More Spice.  Tony's tends to have a generous amount of salt so blending in the Salt Free will tone that down a bit.
This recipe is one that you can easily throw together and enjoy. With by yourself or with a friend or significant other.  I recommend enjoying it with another, because food you cook always tastes better when you can see someone else enjoying it as well.
Shrimp & Grits
Yield 2-4 servings
Ingredients
Shrimp
1 lb shrimp (peeled and deveined)

Creole seasoning to taste

2 strips thick cut bacon, cut into 1/2" pieces
1/4 green bell pepper, chopped
1/2 onion, chopped
3 cloves garlic, minced
1/4 cup parsley, chopped
1/2 cup white wine
2 tbsp tomato sauce
2 lemons
Grits
1/2 cup Quaker Old Fashioned Grits
2 cups water
2 tbsp butter
1 cup shredded sharp cheddar cheese
1/4 cup heavy whipping cream (optional)
Salt & Pepper to taste
Instructions
First things first, get all of your prep done.  It makes cooking much easier when you have everything prepped and ready to go into the pan/pot.  Chop all your vegetables and rinse and dry your shrimp.
In a medium pot bring the two cups of water to a boil.
In a large skillet over medium high heat begin to fry bacon.
The water for the grits should now be at a boil.  Add grits to the pot cover and reduce heat to low.  Grits should cook in roughly 20 minutes.  Check and stir occasionally to assure grits don't stick to bottom of the pan.
After bacons has begun to brown, 3-5 minutes, add bell peppers, onions, and garlic to pan.  Reduce heat to medium and cook until vegetables begin to brown, 5-7 minutes.
Deglaze pan with with white wine.  Once the majority of the wine has boiled off add  tomato sauce to the pan.
Season your shrimp with creole seasoning.  I prefer to season my shrimp until my nose burns just a bit, but the amount of seasoning used is completely up to you (you can always add more, but you can't remove any).  Add shrimp to the pan and cook until pink, cook should be about 3-5 minutes.
To finish squeeze lemon juice into pan (making sure not to drops any seeds in).
Stir butter, heavy whipping cream, cheese, salt, and pepper into the grits.
To serve spoon grits into a bowl and then top with shrimp.
Courses Main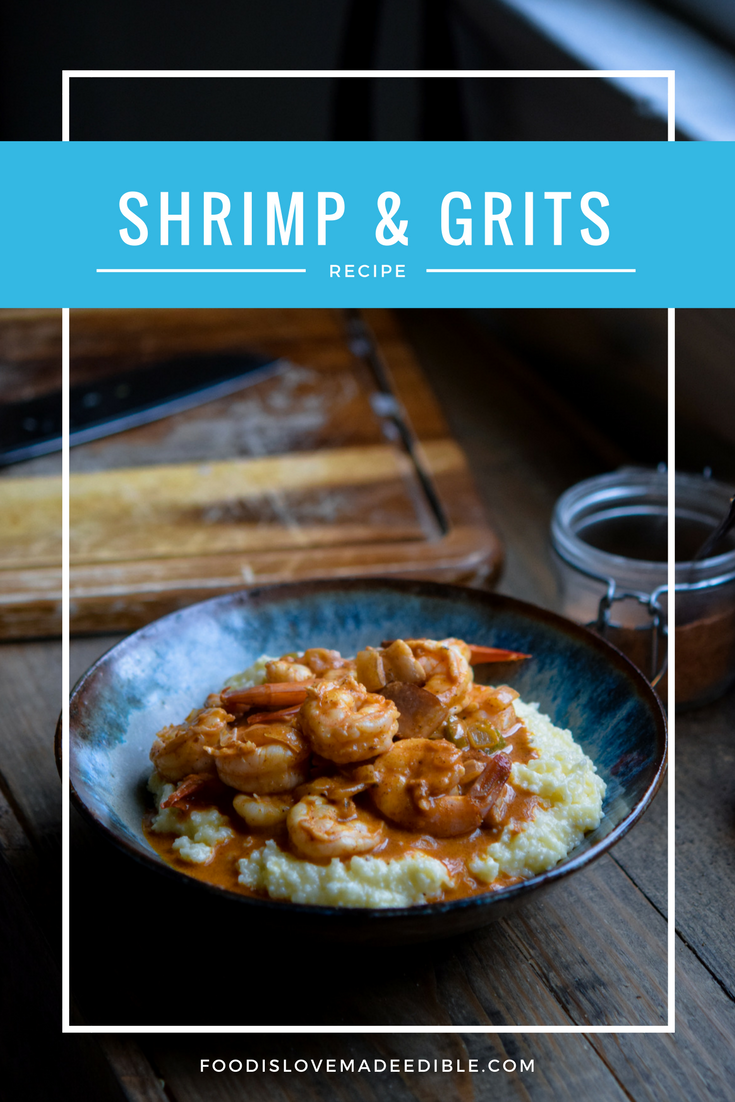 As always thank you for taking a few moments from your day to read over this and I hope that you are able to try this recipe sometime and that you enjoy it.  Feedback is always welcome and appreciated.
Have a blessed day,
Benjamin
3