For the majority of people who are reading this and do not know me personally; know that this recipe is out of my normal repertoire.  My usual meal centers around some sort of protein.  Whether that be a nice steak, some nice plump shrimp, etc.  This asparagus soup recipe is definitely not that.  It's a much lighter, and I suppose healthier, recipe that I am sure vegans AND the rest of us will all enjoy.
There are a lot of vegetable soup recipes out there with lots of different variations of ingredients; from the simple to the extravagant.  My recipe I would have to say falls in the simple category.  With an ingredient list that consists of less than 10 ingredients and only 5 steps I've found that simple and fresh makes for a nice refreshing soup.
The core of the dish of course is the asparagus.  To help the asparagus blanch more evenly and to make it easier to blend I cut them in 1/2 inch to 1 inch pieces.
Transferring the asparagus straight to ice water after blanching it helps to stop the cooking process and give you the freshest fastest possible.
Fresh ingredients will always trump processed ingredients.  You could of course use dried marjoram, minced garlic out of the jar, and lemon juice from those little lemon shaped containers.  I personally use the real fresh ingredients, and I recommend that you do as well.
Once all of your ingredients have been prepped it's time to turn them into a soup.  To do this you'll simply add them all together in a food processor and blend them together until smooth.
If you're like me and you use a hand blender you won't be able to just dump everything together and start blending.  I find it best to add all the ingredients besides the asparagus to a small container (most hand blenders come with one) and first blend it together.  Then little by little add asparagus and blend; adding more and more asparagus until you've got it all blended together.
After you've got everything blended it together it's as simple as putting the soup on the stove on low heat for 5 minute to heat it up.  Then it's time spoon a nice helping into a bowl and enjoy!
I go back and forth with with my vegan friends at least once a week about how much better eating vegan may or may not be for you.  I won't get into the research behind eating vegans and the benefits that come from it.  I don't think that any particular way of eating is healthier than the other; I personally think that it all comes down balance.  This asparagus soup is definitely a way of me trying to find balance in my own diet, and I hope it can do the same for someone else.
Asparagus Soup
Yield 2 servings
Ingredients
1 bunch of asparagus
1/4 cup marjoram
2 closes garlic (3 if it's a small head of garlic)
Juice of 2 lemons
1 tbsp olive oil
2 tbsp truffle oil
1/2 cup water
1 tbsp salt
1/2 tbsp black pepper
Instructions
After cleaning and removing the butts from the asparagus (I don't know the technical term) cut it down into roughly 1/2 to 1 inch pieces.
Blanch the asparagus in boiling water.  After 2-3 minutes remove the asparagus from the boiling water and immediately place it into an ice bath to stop the cooking process.
Remove the asparagus from the ice water and place it into a food processor, or a small sauce pan if you're use a hand blender like I am.
Add all the remaining ingredients to the asparagus and blend together.  If you're using a hand blender like myself I find it blends best if you add a bit of asparagus to the water and remaining ingredients and blend it until it's smooth. Continuing to add asparagus little by little until you have blended it all to am smooth consistency.
Pour the soup into a small sauce pan and heat the soup over low heat for 5 minutes.  Season with Salt & pepper to taste.
Courses Soup
As always thank you for taking a few moments from your day to read over this and I hope that you are able to try this recipe sometime and that you enjoy it.  Feedback is always welcome and appreciated.
Have a blessed day,
Benjamin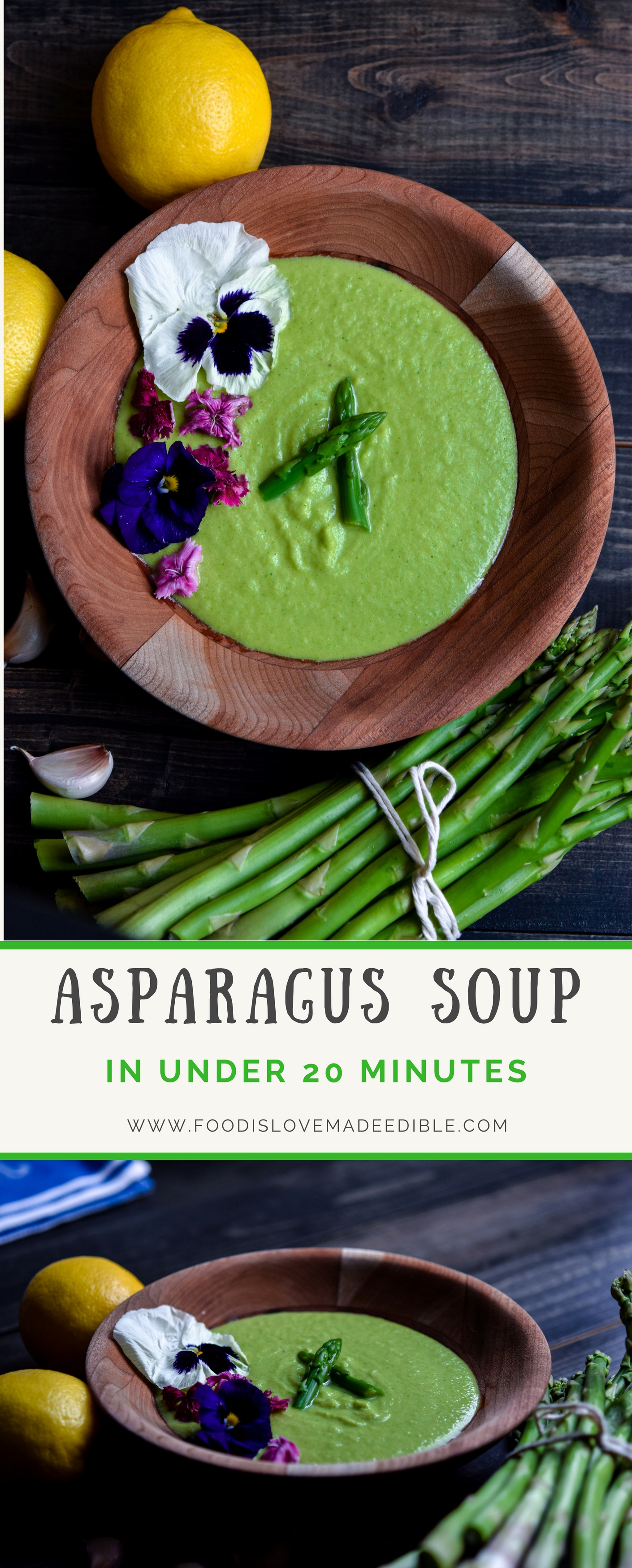 1