So many of my dishes come together from me walking around Whole Foods trying to figure out what I want for dinner.  On the particular day that I first made this dish I was walking through the grocery store and saw a beautiful red snapper filet staring me in the face.  That red snapper filet reminded me of a blackened snapper and asparagus dish that I used to make when I was in college.  I used to make an aioli to go with the the snapper, but decided to swap it up with a lemon cream sauce for this dish.
Sauces when done right can really make a dish, and this is very simple lemon cream sauce is one that i am pretty proud of.  Over the course of the four years I have been seriously cooking I have found sauces to be the most difficult cooking skill to learn.  I've looked into taking cooking classes before, but I've made it this far without every taking one so why start now?  If I can teach myself how to make my own cocktail syrups I can teach myself how to make my own sauces.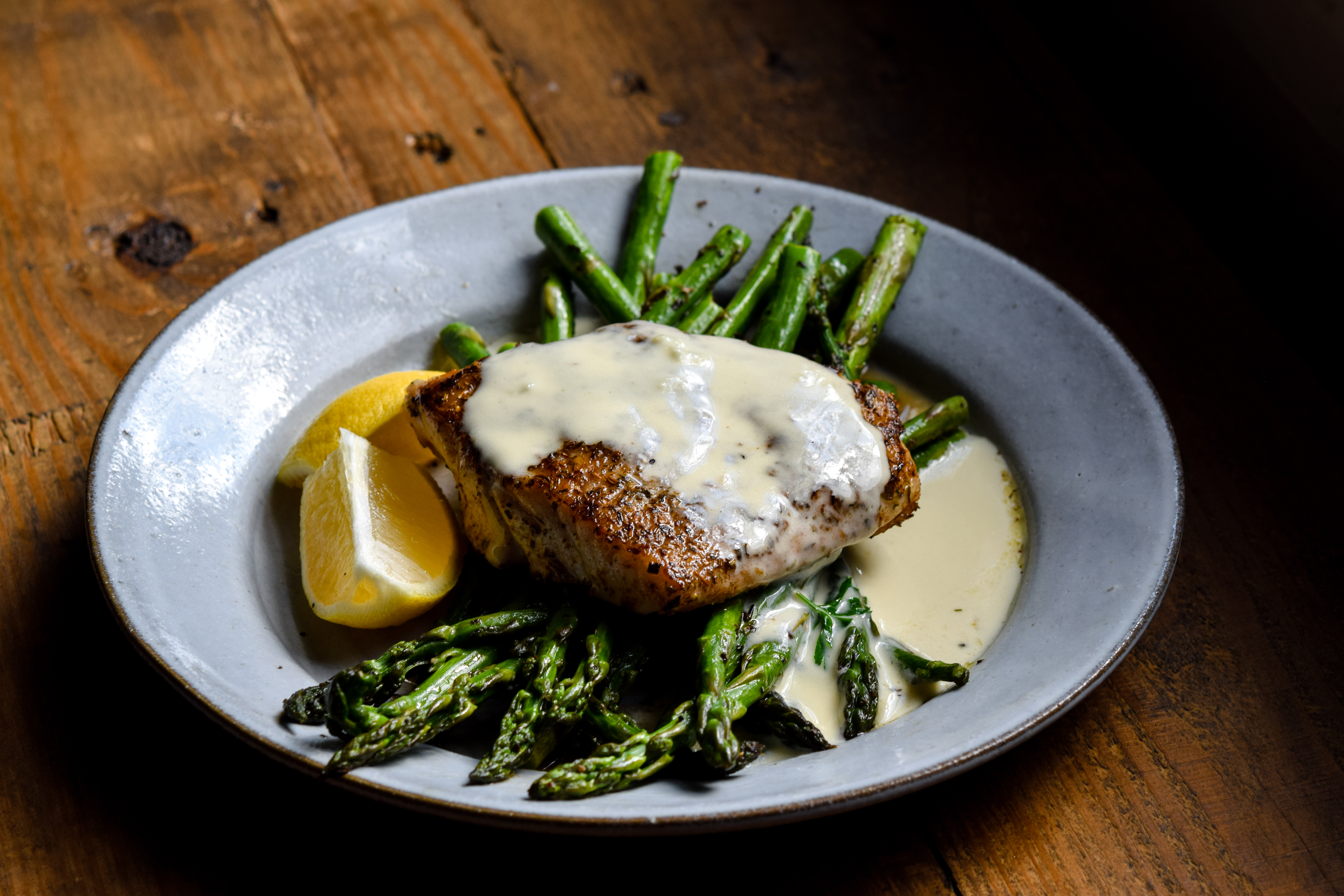 This sauce goes really well with my Garlic & Herb Asparagus  recipe.
Red Snapper with Lemon Cream Sauce
Yield 2 servings
Ingredients
Red Snapper
2 6-8 oz. red snapper filets, skin removed
1 tbsp dried oregano
1 tbsp dried parsley
1/2 tbsp dried rosemary
1/2 tbsp dried thyme
Salt & pepper
2 tbsp butter
Olive oil
Sauce
1 pint heavy whipping cream
4 cloves garlic, minced
2 tbsp butter
Juice of 4 lemons
Salt & pepper
Instructions
Preheat oven to 350 F.
Melt 2 tbsp of butter in a small sauce pan over medium heat.
Add minced garlic to the pan and cook until garlic begins to brown and becomes fragrant.  Reduce heat to low and add heavy whipping cream.  Stir often to make sure that the cream doesn't burn at the bottom of the pan.
Season fish filets on both sides with oregano, parsley, rosemary, thyme, and salt and pepper.
Heat a couple tbsp of olive oil in a skillet (non-stick if you have one) over medium high heat.
Add the filets to the pan, what would be skin side down, and cook for 3 minutes.  Flip the filets and cook for another 2 minutes.  Transfer the pan to the oven.
Juice the lemons in the sauce pan and continue to stir the cream.  After 10-12 minutes the cream should begin to thicken as the water evaporates out.  Your sauce should get to point where 
After 5 minutes remove the fish from the oven and add 2 tbsp of butter to the pan.  Tilting the pan towards you over medium heat baste the fish filets for a couple minutes with the butter.
Serve the filets with lemon cream sauce and enjoy!
Courses Main
As always thank you for taking a few moments from your day to read over this and I hope that you are able to try this recipe sometime and that you enjoy it.  Feedback is always welcome and appreciated.
Have a blessed day,
Benjamin