Even when I try and make vegetarian dishes they often end up having meat in them.  Over the past couple years I have been expanding my diet; mushrooms being one of the things that I've recently started eating more of.  I've found of one of the best ways to try new foods is to pare them with things that you are comfortable with; for example ham and polenta being two things that I use very often.  You could of course make this recipe without using the ham, but where's the joy in that?
In my time learning different ways to prepare mushrooms I have learned that flavor of shiitake mushrooms (which I normally use) really comes from what you season them with.  In this recipe the coppa enhances the meaty flavors of the mushrooms while the sage really brings out the mushroom's earthy notes.  By no means am I a mushroom expert at all, but hey it's my blog so I'll give my opinion haha.
Doing some research on whether or not you can eat the stems of shiitakes I came across one blog that mentioned used them in stock, soups, etc.  That led me to adding the stems from the mushrooms to the water and chicken stock that the polenta was going to be cooked in.  Not sure if they really brought much flavor in their own right to the polenta, but hey what could it hurt?
This recipe was definitely a learning experience for me.  Both continuing to learn about mushrooms and about new ways to bring flavor to a pretty bland ingredient like polenta.  The bowl you see in the picture below was empty within minutes… So you can expect to see more mushrooms in the future.
Mushrooms with Coppa Ham and Sage over Parmesan Polenta
Yield 2 servings
Ingredients
Mushrooms
8 oz. shiitake mushrooms, halved and stems removed
2 oz. coppa ham, sliced
3 cloves garlic, minced
1 bulb shallot, minced
1/4 cup chicken stock
Sprig of fresh sage
Sprig of fresh rosemary
1 tbsp butter
Salt & pepper
Polenta
1 cup polenta
2 cups water
2 cups chicken stock
Mushroom stems
1/2 cup parmesan cheese
2 cloves garlic, minced
2 tbsp butter
Black pepper
Instructions
Once you have all of your ingredients prepped add the water and chicken stock to a small pot.  Add the mushrooms stems to the pot and place the pot over high heat.
Add the coppa ham to a pan over medium high heat and cook until the ham starts to crisp up.  Once the coppa is done remove it from the pan and set aside.
By now the water for the polenta should be boiling.  Remove the mushrooms stems pot of water and chicken stock and stir in polenta.  Lower heat to low and cover.
Lower heat to medium and add the butter to the pan.
Add mushrooms to pan and cook for 4-5 minutes; stirring occasionally.  Remove mushrooms from the pans and set aside with the coppa.
Add shallot and garlic to the pan and brown for 2-3 minutes.  Add chicken stock, rosemary, and sage to the pan and reduce heat to low.
Once the polenta has finished cooking (15-20 minutes) stir in the butter, garlic, black pepper, and parmesan cheese to the polenta.
Remove the sprigs of rosemary and sage from the pan and increase heat to medium.  Add mushrooms, coppa, and a bit of chopped sage to the pan to incorporate all the ingredients together.
To serve spoon polenta into a bowl and top with mushrooms.
Courses Main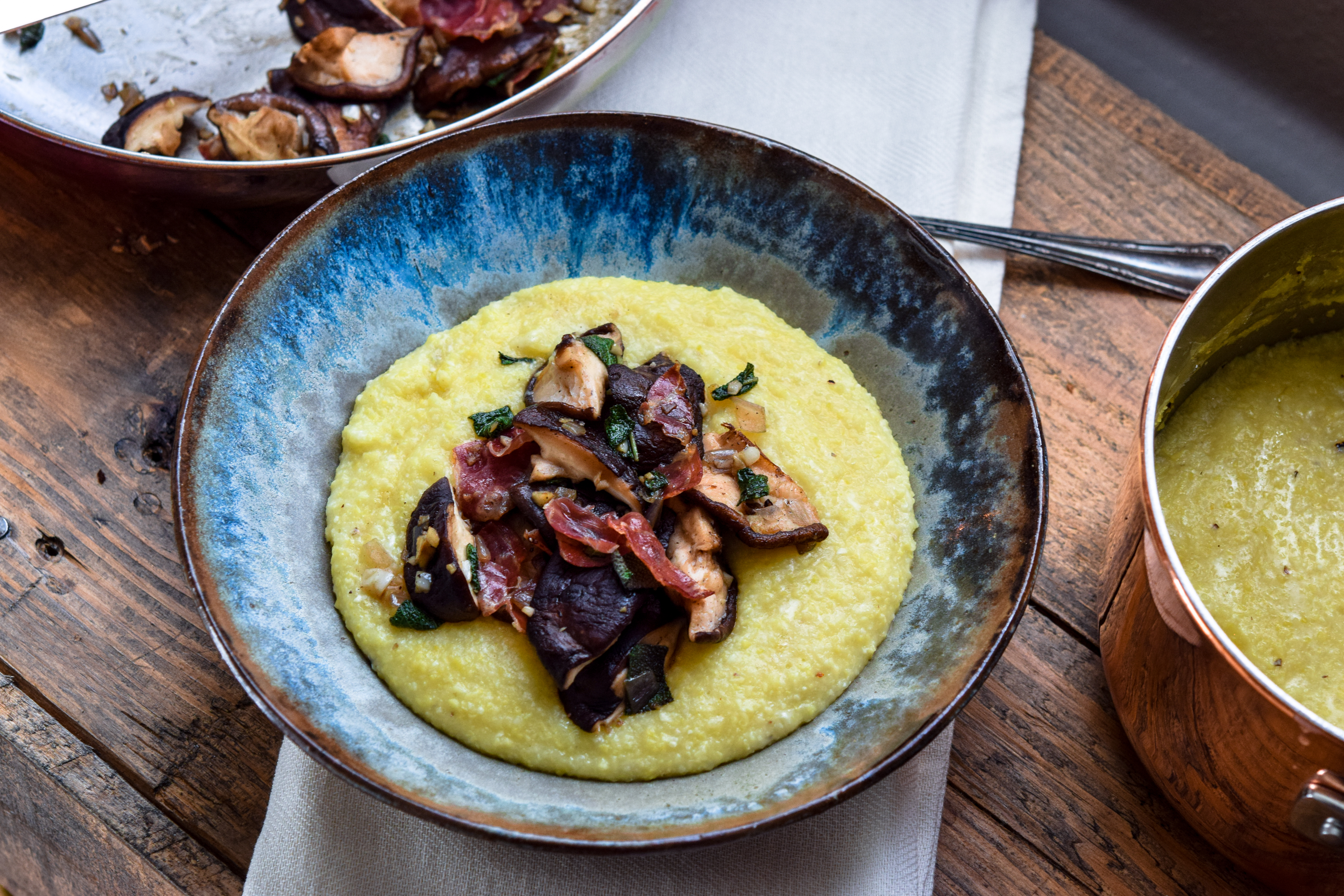 As always thank you for taking a few moments from your day to read over this and I hope that you are able to try this recipe sometime and that you enjoy it.  Feedback is always welcome and appreciated.
Have a blessed day,
Benjamin