What would be your last meal?
It's a question I'm sure you have been asked or heard asked many times in your life.  It's something that is often tied to prisoners on death row; i.e. The Green Mile and loaf of corn bread brought to John Coffey.  So I again ask you the question. If you only had one more meal left to eat before you left this life and you could request anything you wanted what would you choose?  It's pretty simple for me; my mom's red beans and rice.
Traditionally in Louisiana red beans and rice is served on Monday.  Most restaurants (especially the ones outside of the major metro areas) will have a red beans and rice special on Monday.  Generally served with either a link of andouille sausage or a pork chop.  I'd be lying to you if I knew exactly where the tradition comes from, but from a quick Google search red beans and rice was made on Monday due it being the traditional wash day. Red beans being a dish you can put on and forget about it's a perfect dish for a busy day.
For me red beans and rice is definitely a Sunday dish.  I get my beans going first thing in the morning before I head to Mass with my fiancé.  So after Mass, running errands, and cleaning up the house we can sit down over a bowl of red beans and rice that has been cooking in crockpot for 8 hours.
I call this recipe "Kinda Mom' Red Beans and Rice" because the base recipe comes straight from the way my mom made it.  It along with crawfish étouffée were my two favorite dishes growing up, and the favorites of many of my friends who ate at our house.  I never really appreciated my mom's red beans until I moved away from home and didn't have on a regular basis.  Now every time I make a pot I bring a little piece of my childhood into my own home.
Red Beans & Rice
Yield 8-10 servings
Ingredients
1 lb. red kidney beans
1 white onion, chopped
1/2 green belle pepper, chopped
1 sticks celery, chopped
Handful of parsley, minced
1 lb andouille sausage, sliced into 1/2 inch pieces
1 ham steak, cut into small pieces
1/2 lb tasso, cut into small pieces
2 tbsp Creole seasoning
6 cups water
Green onion, diced
Instructions
Recipes really don't get any simpler than this.  All it takes is the list of ingredients above, a crockpot, and time.
Add all ingredients to a crockpot, cover, and cook on high for 8 hours.
Stir beans occasionally over the cooking period.  This will help keep your beans from burning on the bottom of the crockpot.  If the beans get too thick you can add a bit of water.
Serve red beans over rice with green onions sprinkled over top.
Courses Main
Cuisine Creole
You can see below I make this quote often.
As always thank you for taking a few moments from your day to read over this and I hope that you are able to try this recipe sometime and that you enjoy it.  Feedback is always welcome and appreciated.
Have a blessed day,
Benjamin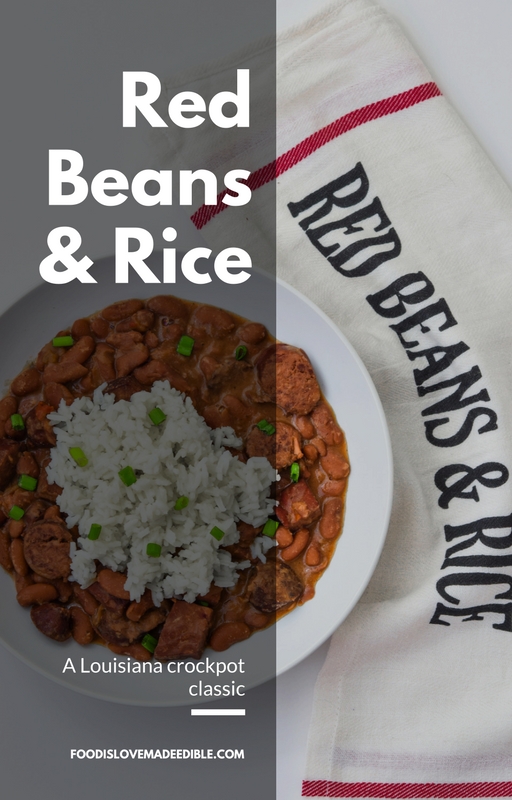 1